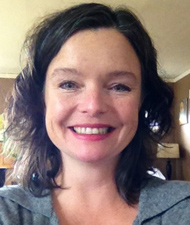 Kim Elliott, MS, CCC-SLP, ATP
Co-Director
Kim received a Bachelor's of Fine Art from York University in Toronto, Canada and completed her graduate degree in Speech Language Pathology from Portland State University. Kim is a certified Assistive Technology Professional (ATP), specializing in Augmented and Alternative Communication (AAC). Prior to Co-directing the AT Lab, she owned a private practice at Assistive Technology NW (ATNW), where she focused on developing communication systems for children and adults with complex communication needs. She has also worked at Randall Children's Hospital on the Assistive Technology Team and with adults at Oregon Health and Sciences University in the Department of Otolaryngology serving clients with ALS, Parkinson's, Stroke, neurodegenerative diseases, and with developmental disabilities. She contracted with the Department of Vocational Rehab in Vancouver, WA, to assess and implement AT to support adults in a vocational setting and with school districts on implementing AT in the classroom and adapting curriculum. She teaches the graduate AAC course as adjunct faculty at Portland State University and has participated in a Master Clinician video teaching project at the University of Oregon. She is also trained as a teacher of "Danceability", a dance/movement approach that includes people of all abilities.
Carrie Luse, MSR, OT/L, ATP
Co-Director
Carrie graduated from the Medical University of South Carolina in 2001 with a Masters in Occupational Therapy. Her education was primarily interdisciplinary, learning alongside physical therapy and speech language pathology students. Carrie has been a certified Assistive Technology Professional (ATP) since 2007. Her true passion is working with and learning from people with complex communication, mobility, and medical needs. She worked for almost ten years at Legacy Randall Children's Hospital in Portland, Oregon and was part of multiple interdisciplinary clinic teams. Carrie has served children and adults through her private practice at Assistive Technology NW, as well as consulting at the Providence Neurodevelopmental Center for Children and The Child Center. Carrie is now co-directing the AT Lab at Community Vision. She has been an adjunct teacher at Pacific University for an AT course. She presents regionally and nationally on a variety of topics. Carrie lives in Portland with her husband, two daughters, and two little dogs.
Sabine Rear, ADAC
Accessibility Specialist
Sabine Rear is a blind artist, speaker, educator, and lifelong assistive technology user. As the Accessibility Specialist she works to connect the community with access tools and to facilitate exploration of these tools and technologies. Sabine is also the Oregon representative of the Northwest ADA Center. The Center provides technical assistance, training and educational materials to Region 10 – Oregon, Washington, Idaho and Alaska. Learn more on our ADA page. Sabine's art centers around disability, public- and self-perception, and public space, and has been published by Believer Magazine, Vox, and Cosmopolitan. Sabine is passionate about accessibility as a consistent creative practice of listening, learning and collaborating.