The iPad has many accessibility features to support individual needs including Vision, Physical and Motor access, Hearing, and more. Go to Settings, then find the Accessibility icon: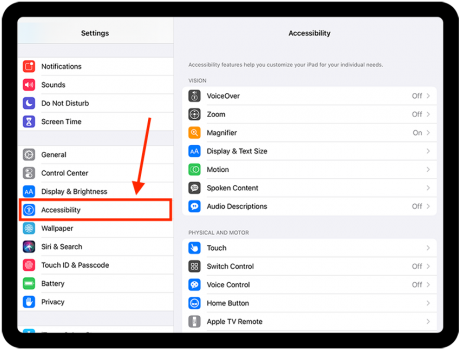 The first section under Accessibility is VISION. Here are the features listed:

VoiceOver
With VoiceOver you can use the iPad even if you can not see the screen. VoiceOver gives audible/verbal descriptions of everything on your screen. You can also adjust the speaking rate and pitch.
When you touch the screen or drag your finger over it, VoiceOver speaks the name of the item your finger is on, including icons and text. To interact with the item, such as a button or link, or to go to another item, use VoiceOver gestures.
When you go to a new screen, VoiceOver plays a sound, then selects and speaks the name of the first item on the screen (typically in the top-left corner). VoiceOver tells you when the display changes to landscape or portrait orientation, when the screen becomes dimmed or locked, and what's active on the Lock Screen when you wake iPad.
Here is a 7-minute video about Voice Over from Google Chrome Developers:
Click here to see written instructions on 'How to Use VoiceOver for Beginners' from The Perkins Institute for the Blind.
Zoom
The Zoom feature allows you to zoom in closer on specific items in many apps. For example, you can double-tap or pinch to look closer in Photos or expand webpage columns in Safari. You can also use the Zoom feature to make the screen bigger. You can magnify the entire screen (Full Screen Zoom), magnify part of the screen with a resizable lens (Window Zoom), or magnify a portion of the screen that stays in one place (Pinned Zoom). And, you can use Zoom together with VoiceOver.
Here is a 1-minute video on how to use the Zoom feature from Apple Support:
Magnifier
Magnifier turns your iPad into a magnifying glass so you can zoom in on objects near you. When you have Magnifier open, you can apply color filters or save a magnified object as an image. You can use the torch (flashlight) on your iPad to add more light to an object you're trying to magnify. You can also turn on Auto-Brightness to adjust the brightness of Magnifier based on the lighting around you.
Here is a 2-minute video on how to use Magnifier from Apple Support:
Display & Text Size
There are several options in the Display and Brightness menu in iPad Settings. In this menu, you can turn on Dark Mode which will make the screen easier on your eyes. When Dark Mode is on, your iPad will have a darker display across all apps and features. You can turn on True Tone*, which uses sensors to adjust the color and intensity of your display to match the ambient light around you so that images appear more natural. You can also turn on Night Shift, which adjusts the colors of the display to be warmer — making it easier on your eyes.
Here is a video on enlarging print font by Mike Mulligan from 'Blind on the Move':
Here is a video on display and brightness settings made by Omaha Public Schools:
Motion
If you have sensitivity to motion effects or screen movement on your iPad, you can stop or reduce the movement by turning this feature on (sliding to show the 'green') by reducing motion of some screen elements, such as: the moving effect of wallpaper and icons when you tilt your iPad; Screen transitions; Siri animations; Typing autocompletion; and Animated effects in Messages.
Spoken Content
You can use Spoken Content tools to have the iPad speak selected text or the entire screen. iPad can also provide feedback and speak text corrections and suggestions as you type. Here is a 5-minute video on Spoken Content by Mark from Henshaws:
Here is a 2019 video about the Speak on Touch feature from Luis Perez:
Audio Descriptions
If you have video content that includes audio descriptions of scenes, iPad can play the descriptions for you. Here is a 2018 article from the Perkins School for the Blind on how to enable audio description:
Tip: How to make app icons and text bigger
Open Settings and tap Display & Brightness on the left-hand side
Swipe down and tap Bigger under "Home Screen Layout"
You can also choose to enable Bold Text
Click here to see screenshots/photos and detailed steps on how to do this.