The iPad has many accessibility features to support individual needs including Vision, Physical and Motor access, Hearing, and more. Go to Settings, then find the Accessibility icon: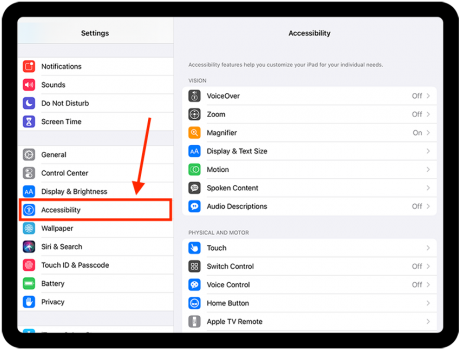 The second section under Accessibility is PHYSICAL AND MOTOR. Here are several key features:

Touch: AssistiveTouch
Under the Touch section, you can activate the AssistiveTouch feature which allows you to use your iPad if you have difficulty touching the screen, pressing the buttons, or if you require an adaptive accessory (such as a joystick or mouse). With AssistiveTouch, you can use a simple tap (or use your adaptive accessory) to perform actions such as:
Open the AssistiveTouch menu
Go to the Home Screen
Double-tap
Perform multifinger gestures
Perform scroll gestures
Summon Siri
Access Control Center, notifications, the Lock Screen, or the App Switcher
Adjust the volume on iPad
Shake iPad
Take a screenshot
Use Apple Pay
Speak screen
Adjust dwell settings
Control Analytics
Restart iPad
With just a finger tap, you can use AssistiveTouch to adjust volume, lock your screen, use multi-finger gestures, restart your iPad, or replace pressing buttons. When you turn on AssistiveTouch, you'll see a button appear on-screen:
You can drag it to any edge of the screen, where it will stay until you move it again. By default, tapping the button once will open the AssistiveTouch menu. Tapping once anywhere outside of the menu will close it. This 1-minute video by Apple Support shows how to turn on and customize AssistiveTouch:
Face ID & Attention
You can use Face ID to securely unlock iPad, make purchases and payments, and sign in to apps (such as a banking app) by glancing at your iPad.
You can also adjust Face ID and attention settings. For additional security, Face ID is attention aware. It unlocks iPad only when your eyes are open and looking at the screen. iPad can also reveal notifications and messages, keep the screen lit when you're reading, or lower the volume of alerts.
Switch Control
Switch Control allows you to operate iPad using one or more adaptive switches. With switches, you can select, tap, drag, type, and even draw freehand. You use a switch to select an item or location on the screen, then use the same (or a different) switch to choose an action.
This 3-minute video is part of Todd Stabelfeldt's keynote address for a 2018 Apple event where he demonstrates Switch Control:
Voice Control
You can control iPad with your voice. You can edit text as you dictate, navigate with voice commands and gestures, and see numbers or names next to screen elements. Here is a quick video from Apple Support:
Pointer Control
If you use a mouse or trackpad with iPad, you can change the appearance of the pointer by adjusting its color, shape, size, scrolling speed, and more in the Pointer Control menu. Here is a quick video from Apple Support:
Home or Top Button
The home and top button on the iPad have several functions, including waking the screen, powering on and off, and accessing shortcuts. You can change how the home or top button responds to your touch by adjusting the accessibility settings for the Home button or top button.
Keyboards
The iPad has an onscreen keyboard with a variety of settings. You can also connect an external keyboard to your iPad.
Apple Pencil
The Apple Pencil can be used to draw on the iPad, as well as with the notes app and other programs. This 3-minute video by Apple Support shows some Apple Pencil features: