The iPad has many accessibility features to support individual needs including Vision, Physical and Motor access, Hearing, and more. Go to Settings, then find the Accessibility icon: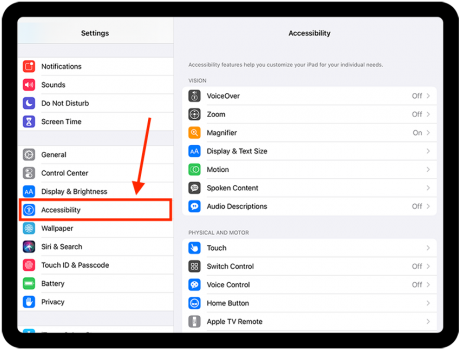 The third section under Accessibility is HEARING. Here are the features listed:

How to use iPad with Hearing Devices
You can use Made for iPhone (MFi) hearing devices or sound processors with iPad and adjust their settings. Some hearing devices will connect via the "Hearing Devices" menu while others will pair via Bluetooth. Check the Apple Support instructions and the instructions from your hearing aids for pairing support.
Here is a 1-minute video from Clarity Hearing on how to pair hearing aids with an iOS device. Instructions may vary between hearing device types and brands.
Sound Recognition
The Sound Recognition feature in the Accessibility menu allows your iPad to continuously listen for certain sounds—such as a crying baby, doorbell, or siren—and notify you when it recognizes these sounds.
RTT
RTT – or Real Time Text – is available on iPad WiFi calls and FaceTime, depending on your mobile network carrier and location. RTT can be accessed from the phone app and FaceTime and allows you to make and receive RTT calls.
This 4-minute video by Mister Clay explains how to set up RTT on your iOS device.
And this article from 9to5mac explains how to use RTT.
Audio/Visual
You can adjust audio and visual accessibility settings to suit your hearing needs. For example, set mono audio, volume balance, LED Flash for Alerts, and headphone accommodations.
Subtitles & Captioning
When you play video content in a supported app, you can turn on subtitles and closed captions (if available). iPad usually shows standard subtitles and captions, but you can also choose special accessible captions—such as subtitles for the deaf and hard of hearing (SDH)—if available.