The iPad has many accessibility features to support individual needs including Vision, Physical and Motor access, Hearing, and more. Go to Settings, then find the Accessibility icon: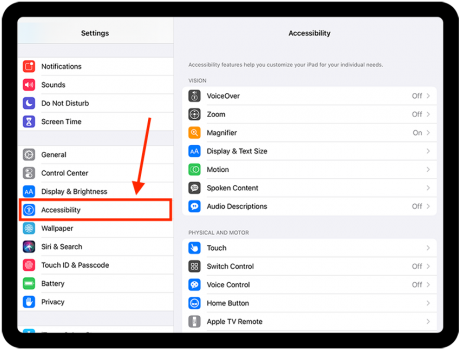 The last section under Accessibility is GENERAL. Here are some features:
Guided Access
Guided Access can temporarily restrict the iPad to a single app (keep you in one app) and allow you to control which app features are available. With Guided Access, you can disable areas of the screen that you do not want to be activated or where an accidental gesture might cause a distraction, disable the iPad hardware buttons, or limit how long someone can use the app.
Here is a 1-minute video from the Barnsley AT Team on how to use Guided Access:
Siri
Siri is an interactive 'virtual assistant' built into your iPad. Use Siri to get information and perform tasks. Siri appears right over the screen or app that you are in.
Here is iMore's 2020 "The Ultimate Guide" to Siri:
Accessibility Shortcut
Accessibility Shortcuts allow you to quickly turn on and off the accessibility features you use most on your iPad. This 1-minute video from Apple Support shows how to set up and use these shortcuts:
Tip: How to find your iPad
Use the Find My app to locate and play a sound on a missing iPad or other Apple device. Turn on Find My before your device is lost. To turn it on, go to your Settings, tap your Apple ID, and scroll down to Find My.
If you lose your iPad and do not have access to the Find My app, go to iCloud.com and log in using your Apple ID and click on 'Find My'. A map will open, then click on the dot that shows your iPad's location and choose 'Play Sound.'
This 3-minute video from Apple Support shows how to use the Find My app: